The lovely Claire Lornie is off to the chapel in Vegas to get wed.  Claire has been coming to Pole Energy for over 4 years and it would be impossible to list all the fun times we've had so and we couldn't let her wedding pass unnoticed could we???
We decided it was time for a little impromptu Hen Party for her class last night…
To continue in the last minute quest to burn calories and tone up we changed the format and decided to have competition fight off's between the two Claire's – the first to hit the opponents willy off wins!!!  Problem was the willies fell off without being touched so plan B came into play – acrobatics and tumbling…………….hmmmm it's safe to say they're not joining the circus any time soon….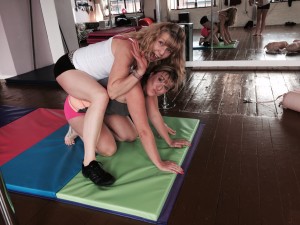 Had a great laugh last night and would like to wish Claire Bon Voyage and lots of love and good wishes for her nuptials next week in the Vegas Chapel.  Much love Claire – photos awaited with anticipation….xxx