Wow……….
Epic is the only way I can only describe our week holiday in Tenerife…Participants were Julie, Emma, Sam, Leanne, Claira, Jo, Nat, Heidi, Lucy, Zoe, Becky and Anita
After our long flight the 12 of us arrived at the hotel to a champagne reception -don't mind if we do….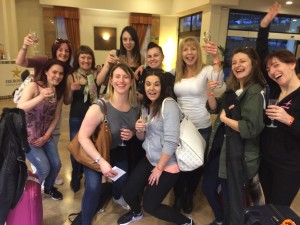 Quick change and we headed out to see what Tenerife had to offer….we didn't get too far-just the first bar we came to where we met some very random people who taught us our catch phrase for the holiday -polite company means I can't share it but needless to see yes it was very rude!!!!!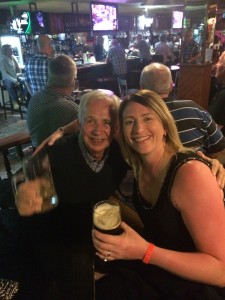 The next morning we went off to explore again and chilled around the pool before we then got into our bingo routine for the evening haha – and  I have to report Nat and Zoe won twice!!!
I appreciate that not everyone travels with their own personal pole but not everyone is me -every handbag should have one – and you have not holidayed until you have poled on the beach!!!!! It was brilliant despite the slippy pole and was a great way to get to know our appreciative sunbathers and shop owners who were happy to cheer us on!!
Taking part in our illegal massages involving a police shut down wasn't originally on the agenda and Sam was pretty brassed off when her masseuse legged it half way through leaving her covered in oil but it was ok in the end – she came back 20 mins later to finish her off!!
As you can imagine with us being quite a shy retiring group!!??!! we attracted a fair amount of attention at the hotel which culminated in the hotel photographer following us round for a few hours and treating us to our own personal photo shoot which was awesome!!
We managed to fit in trips to the dolphins, waterpark, runs, arm wrestling with local waiters and just about everything else that Tenerife had to offer.
And in celebration of my Birthday I was set 2 challenges which I readily accepted – obviously – the first was to dress up like a cross between Madonna and Cindy Lauper and run around the whole hotel and pool on my own singing – happy birthday to me at the top of my voice- mission was completed!!
Jo set me the second challenge – to walk around the whole pool with a spoon on my nose in return for 5 mins of slave duties from jo….
The birthday celebrations continued round the pool with slaves to hold the banners up, inflatable races in the pool with every imaginable inflatable kindly donated by a large family who were going home, cocktails ,bingo-obviously and I won the prize of our lovely holiday entertainer to do with as I wished!!!
That night we carried on in birthday theme fairly taking over the local bars and generally enjoying ourselves!!
Karaoke was the next big thing-Emma and Sam rocked the stage with their awesome voices -unbelievable and then Leanne literally wowed the whole place with Whitney Houstons I will always love you-literally blew the whole place away!!!  All 3 girls were celebrities and literally welcomed like royalty every time we went back!! Double whammy was Anita won the raffle aswell pocketing £120 and I got presented with a bottle of champagne from a holidaymaker who said we had all made their holiday so brilliant they wanted to give us a treat!!!
So many awesome memories were made on this holiday and so many good times that I could write a book but to finish all I can say is it was an amazing week with amazing people and great friendships were made for life…..xxxxx