Sunday 10th May was the day a year of planning came good.  The lovely Emma Brereton joined our FAF club weight and nutrition programme last year with a goal to lose weight and run her first ever 10k.
So Pole Energy set her the challenge to lose the weight and Julie would run it with her to celebrate!!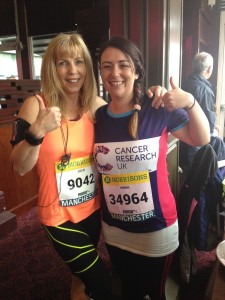 Emma literally threw herself into the challenge.  It took her some time to get her head round ditching dieting and instead eating and fuelling your body properly to achieve your ideal weight but she persevered and eventually she started to lose the weight and see for herself that diets don't work – she is now eating more food than ever before and losing weight!!
So over 2 stone lighter we hit the streets of Manchester to do what she has always wanted to do and run the 10k and she absolutely nailed it!!  She ran the whole course and achieved her personal best time to boot.
We are so proud of Emma for what she has achieved and how far she has come – Big massive well done!!