This has to be the most coveted event so far – with gaining a place akin to a golden ticket at Willy Wonka's!!  Oliver Dunn and I agreed the time and date at 09.31am on 23rd February – I did a shout out for anyone interested at 10.41am the same day.  By 2pm on that day all 20 places had been taken and paid for!!!  So it appears that the only reason any of us exercise is for one reason alone – so we can EAT CHOCOLATE…..
Finally the much looked forward to and exciting day arrived HOWEVER earlier in the day Oliver text to say "by the way your welcome to fetch drink if you fancy it" BLIND PANIC (we can have drink but didn't know!!!??!!).  Luckily Judy was in Aldi when said text hit and so bulldozed the aisles and arrived with Prosecco And Babycham!!!!   And it was off to Simon Dunn's Chocolatiers in High Lane we go………..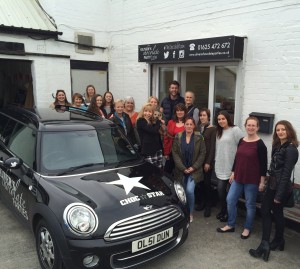 Now I have to point out the maximum number of guests we were allowed was 20 however we had a gatecrasher and in fairness it is impossible to say no to Yolo so in he came….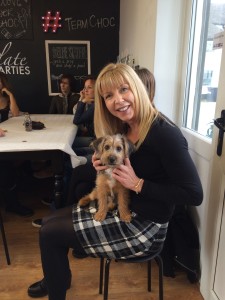 Oliver got to it in the kitchen which left us with no option but to amuse ourselves in the interim….
And in fairness it would be rude to interrupt a man doing the washing up..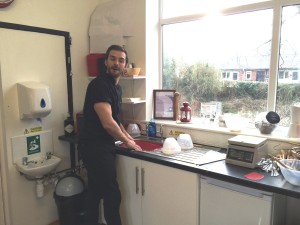 Thee chocolate making then got underway – not quite as easy as it looks.  First you make the chocolates in dark chocolate -I'll leave it to you to decide on the talent of the 20 people in this room –
Then you dip them in milk chocolate……..OH NO, I forgot – first you have to have chocolate moustaches put on –
Then you dip then in milk chocolate –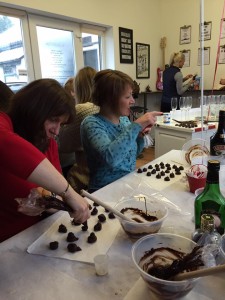 And then you decorate them with white chocolate……………………….I would at this juncture like to enter a disclaimer about any offence caused by said decorations.  You will be pleased to know the said evidence has however been eaten and destroyed so as to cause no further offence –
And finally you get to lick the bowl,,,,,,,,,,,,
We had a fantastic time and I can honestly say EVERYONE should book a party with Oliver at Simon Dunn's Chocolatiers -laugh, drink, dress up,make and eat chocolate – Who wouldn't??????? xx