Anyone who knows me is well aware that animals are my one true passion so this had to be on my list of 50 things to do.  However it is not as easy as you would think.  There are many wonderful people dedicated to looking after animals and even more who want to make it there lifes vocation.  Trying to become a helper is actually very difficult!!  I have spent most of this year trying to find somewhere to let me help with no joy.  My success actually came about in a very random fashion.
4 weeks ago I came home at about 8pm to find Tigger, my cat, prowling on the patio in a very covert manner.  Upon investigation I found a pigeon lay on the patio in a really bad way.
Having a cat I do spend a lot of time rescuing sick birds so cage out of the garage I got him into the spare bedroom and warm and quiet, with no real hope he would make it through the night.  However the next morning he was still with us and at the same time I then saw the massive imprint of him on the upstairs window where he had whacked into it and fallen two stories onto the patio so at least I knew what had happened to him!
His wings seemed fine but his legs were paralysed and he was lay on his side in a bad way.  I bundled him off to the vets who said there were no obvious injuries and he probably just needed rest.  I fetched him home and set about a programme of rest, food and physiotherapy to get his legs working again.  I carried this on for 4 weeks and he made remarkable progress getting to a stage where his legs were working properly and he could sit and stand with support.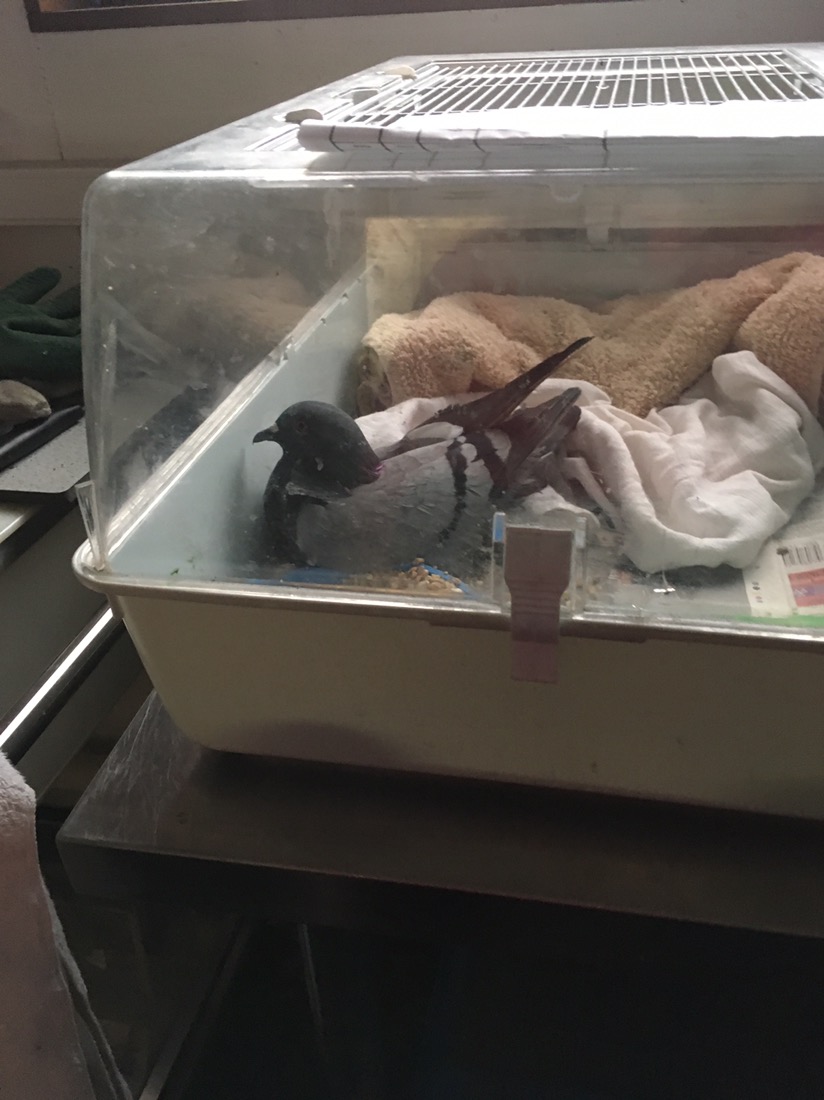 However I felt that after this length of time I needed to get him some more professional help as I was not sure what else I could do to assist him – Enter Lower Moss Wood Animal Hospital in Knutsford.
I took "Barry" over to Knutsford and met the founder of the hospital, Ray, who takes in approximately 2000 wild birds and animals a year which would otherwise die from their injuries.  We got chatting and he gave me a tour round and we spent ages chatting about Barry and all the other work he does.  The upshot to this was he agreed I could become a volunteer and work in the hospital with them – overjoyed is not even close to how I felt!!
And so yesterday was my first day
First job- clean, feed and water 6 poorly hedgehogs-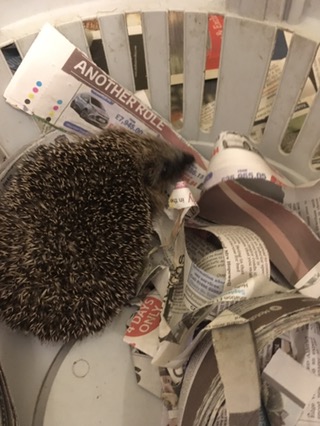 And the same for a pair of the cheekiest cutest squirrels ever-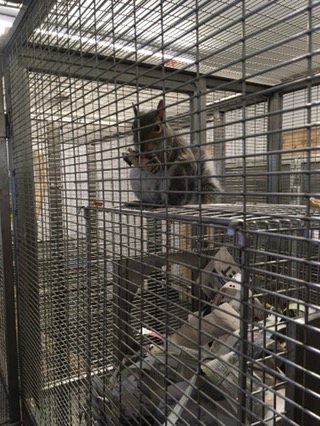 A buzzard with a broken wing was next- this takes 2 people for obvious reasons!!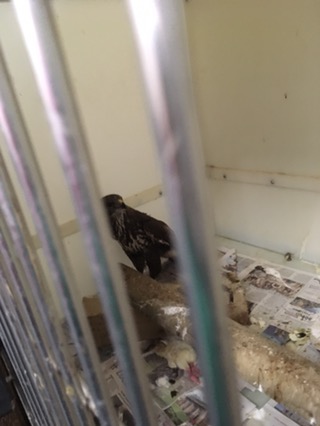 It was then lunchtime and time for the outside patients. The fox is unfortunately a long term patient as he cannot be released and he is really gorgeous and then there are all sorts of birds of prey and seagulls to attend to!! The most beautiful animals ever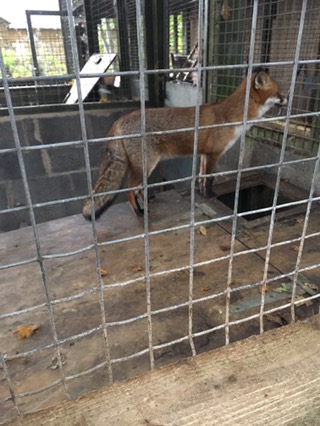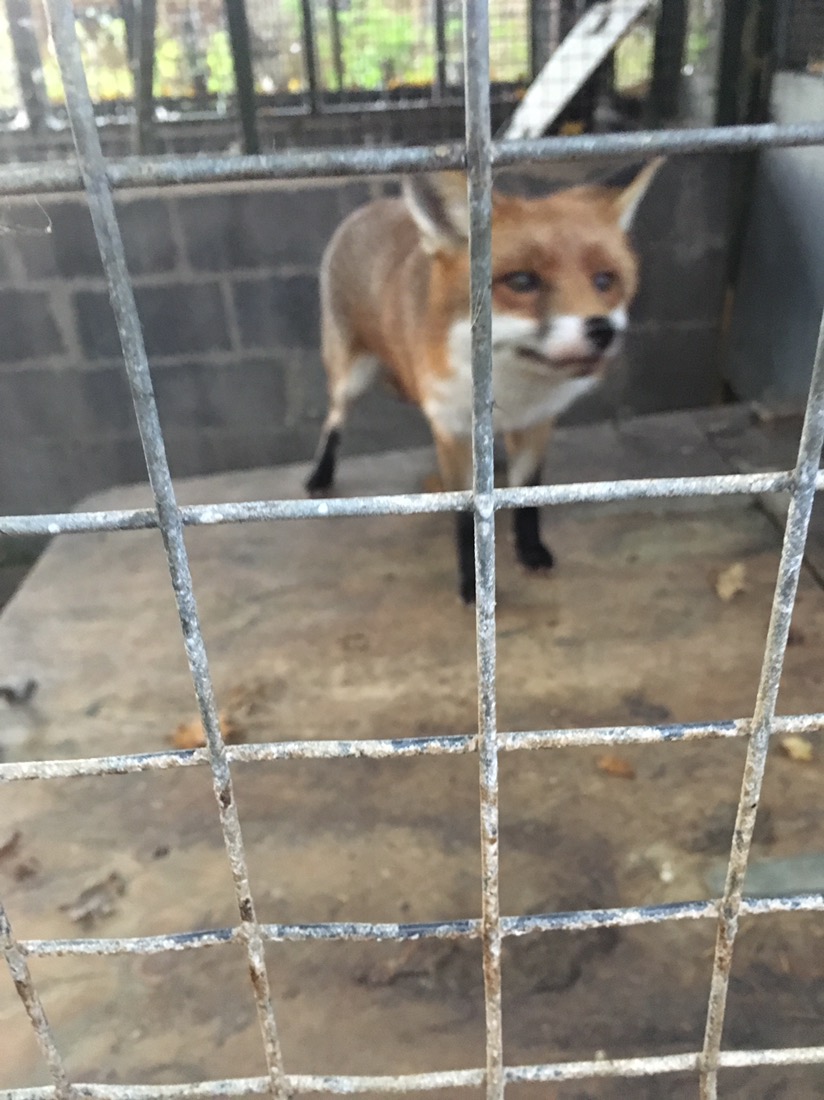 but I have to say I had not anticipated having to prepare their lunch requirements……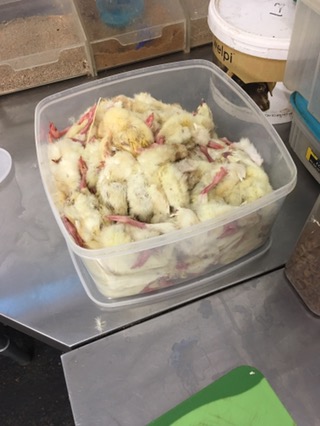 I have to be honest and admit I could not chop them up- I will but not on my first visit. Apparently the chicks are all the male chicks born on farms and are not required as they don't produce eggs so they are gassed- food chain I know but…
So the day carried on with cleaning, feeding and tending to the sick and I loved every second of it!
I can say categorically this was the most rewarding day I have ever had, so much so that I am now a regular volunteer and will be spending every Wednesday working there -and probably as much time in between aswell!!!
Rest assured you will be inundated with more pictures, fundraising and begging for support as I can feel this will be my new mission – but what a worthwhile cause!!
As for Barry – well that is the beauty – I get to still look after him and check his progress and we have agreed then when he is fully recovered we will put a ring on him before he is released and see if he makes it back to my garden!!
I could literally carry on writing this blog forever so forcing myself to finish now but before I go – another pic of the gorgeous fox – just because – x