What a brilliant day we had….
So the intrepid adventurers were Emma, Jo, Kirtsy, Amy, Leanne, Courtney, little Verity and myself.  We met at the Sportsman in Marple at 12.30pm and everyone arrived on time as instructed…..oh apart from me-oops!!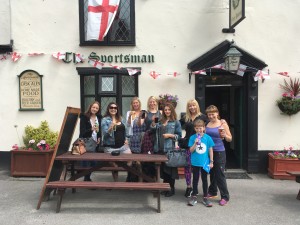 Anyway moving on from that…. Pub no 1 and first drink sunk we started our 4 mile walk and 8 pub venture (thank you to Emma for sorting the route)….
Next stop The Crown, Hawk Green – timed to perfection as the heavens opened just as we arrived – Well we had no option but to step inside for another little drink whilst we waited for it to pass…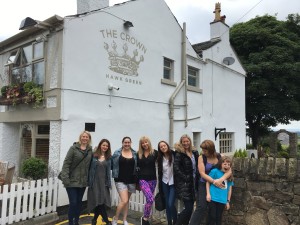 Now what may not be apparent from the photos is just what an eclectic (very nice word for proper weird) bunch we actually looked to passers by – the choice of attire we had all chosen for this walk can only be described as "special"!!!  Jo was solidly equipped to walk Ben Nevis, Amy clearly thought we were walking to the Trafford Centre, Leanne had got ready for a big night out (7 hours too early) and I seemed to be looking for Billy Smarts Circus – the others were variants in between, however it was a source of much amusement to the locals…..
Anyway rain stopped we soldiered on and arrived at The Ring of Bells…..where something very strange happened……
Inside said establishment, at the very same time we were holding a very intellectual debate over whether or not Amy was possessed by spirits, what should we chance upon but – A BOOK OF SPELLS!!!!!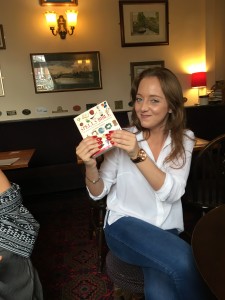 Well there was no option – we had to buy the book and so after much bartering and umming and ahhing said book was purchased for £2.  Amy has been tasked with a challenge for our visit to Pendle Hill and an update of exactly what, when and how will follow in later blog!!
After all this excitement we needed another drink – obviously and then we set ooff again.
By now we were in a bit more urban territory so the views were a little different to earlier……. feel sorry for the rabbits in Marple but the locals are obviously a very clean bunch….
We arrived at our next destination where we met 3 chaps who were more than happy to take the picture evidence – however they clearly got sidetracked by our "derrieres" and forgot to include the name of the pub – it was The Navigation!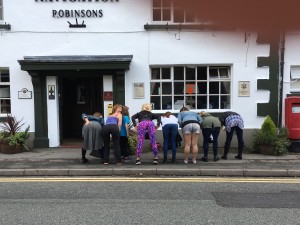 By now we were starving so when we were told they weren't serving food we were most put out so decided to down our drinks…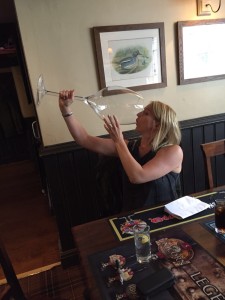 And head off in search of scooby snacks, thus arriving at the Norfolk Arms – which deserves 2 photos because of the excellent photo props AND that they had food!!!!  I would point out at this stage that the 3 rubbish photographers seemed to have followed us and so we gave them one last chance to take a decent pic or they were sacked!!
Feeling fully refreshed we headed off for a very long 10 metre walk to our next stop,The Royal Scot – and yes for the alert ones amongst you our photographers had followed us again and decided to go in for the photobomb this time!!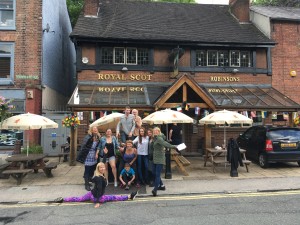 On a time check we realised we were running late so it was a brisk walk up the hill to The Windsor Castle with only time for a quick shot….
And on to our final stop, The Northumberland Arms, which was also hosting the  Pole Energy Darts Competition…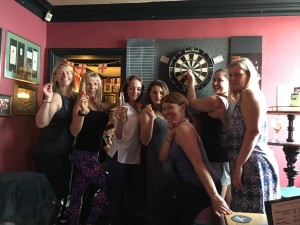 Well this was a very acceptable venue!  The pub was split into three rooms – drinking room, football watching room and darts room.  Drinks bought we went to the darts room which was fully equipped with all mod cons including a digital score counter…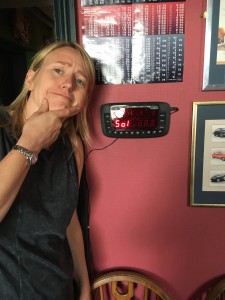 There was only one slight problem – Em and I couldn't work out how to use it but undeterred we said lets wait for one of the younger ones to sort it out – enter Amy – and I quote you –  "WTF is that – does it play music??? "
So we went for the non-score option of playing round the board as a group, thus no scoring required – I know – cunning!!
Everything was going swimmingly well with cheering, booing, renditions of Bullseye theme tune etc….
and then  are youngest member, Verity who is 7 asked to join in – well of course she could-all welcome and so she got in position, aimed, threw…….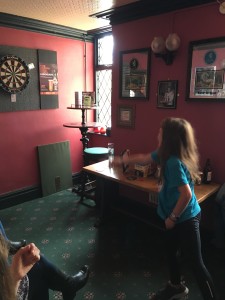 And we all watched as the dart went like a rocket straight through the doorway into the crowd of football watchers!!!! Total silence – for 10 seconds-and then I lost it and was laughing so much I was crying – it had to be the funniest thing I had ever seen – I know-bad but true – and it didn't actually hit anyone so alls well that ends well!!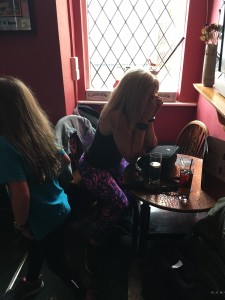 It was such a funny day and we laughed all the way through it – so much so I think we might have to make this an annual Pole Energy Roadtrip.
AND my final photo – of which I am very proud – A dart winging its way to the board – how impressive a photo is that!!!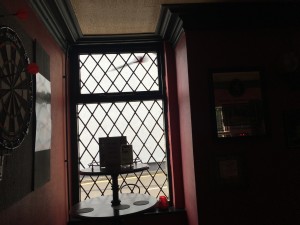 Cheers and thank you to my amazing beer walk buddies xx