This was it – the chance to win a fortune and live in the style we should be accustomed to – we were off to Gala Bingo in Stockport!!!
Not only that but we are now members aswell!!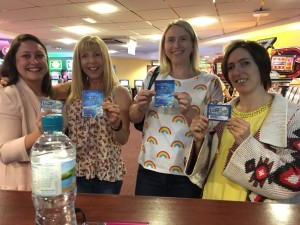 Now you may think Bingo is a game for the blue rinse brigade but not so anymore – it's so high tec you play on a tablet that does everything for you – crosses the numbers off, tells you what numbers you need, tells you when you've won and stores your winnings!!!
In fact it's so easy that Emma can play mine and hers at the same time (Yes I admit I got a bit bored)..
Now the downside to bingo is everyone takes it very seriously and you have to be really quiet – It actually does resemble being in a library!!!  Unfortunately for Gala attending that evening were 4 of us -quiet Anita could do but for Emma, Courtney and Me…well yes it was impossible – as evidenced by the man on the table next to us who fashioned his own earplugs!!
Despite our noise and giddiness we weren't thrown out and got on with the job in hand -winning cash……..
And Emma did!!!!!!!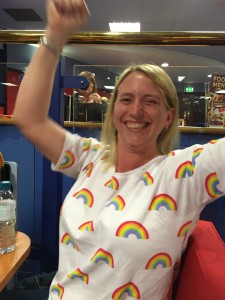 £100 BUT two other people won so she had to share-but still she got £34 so all in all a good nights work and a good night out!!! x