Well today was a beautiful day – perfect for the tennis challenge.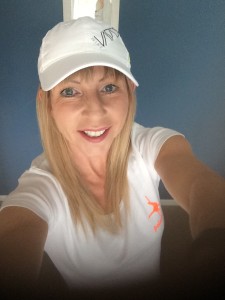 The venue was Torkington Park, Hazel Grove and so we rocked up like the Wimbledon stars we are -with borrowed tennis racquets and balls!!
We started off with single matches….
Then progressed to doubles…..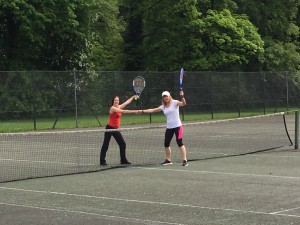 By which stage we started to lose our attention span and amuse ourselves………
Then we asked the couple on the neighbouring court (who's game we had completely disrupted) if they would kindly take a couple of piccies of the tennis pro's so we could leave them in peace!
I think it is only fair to say that we were all fairly pants BUT we really enjoyed ourselves and it was a perfect way to spend an hour on a sunny saturday morning -we shall definitely return!! x
P.S. After the tennis Emma and myself went off on our Manchester to Blackpool cycle training where Emma did 38 miles and I did 37 miles!!!  This has got absolutely nothing whatsoever to do with this blog but I am so proud of us I decided to tell you anyway!! x