This was quite possibly one of the most fun days out in the history of Pole Energy…..
Eight of us,Jo, Bob (don't ask), Kirsty 1, Kirsty 2, Libby, Sam, Emma and Myself donned our finery and met at the Old Rectory for our chariot -in the form of Chris the taxi driver – to speed us to Haydock…..
The weather was appalling but non deterred we had our picnic, courtesy of Emma, and yes it did involve alcohol, enroute and duly arrived to survey the venue.
Drinks purchased, form studied we were ready…….
Only problem being the races didn't start for an hour which left an hour to be filled…………
And so after our little interlude we got down to the job in hand – losing all our money on the gee gee's…….
And then we had another little interlude…….
Little trip to the winners enclosure…
Quick game of Twister…….
Then down to the rave finale……..
Before it was homeward bound -for some of us…..others however went in search of more fun and alcohol and promptly lost the next 5 hours of their lives………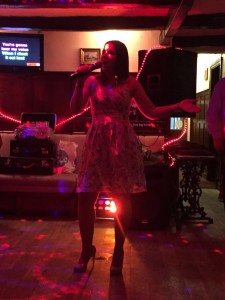 Before I finish the story however I think it is only fair to share the biggest payback of all time – the queues for the Gents loos at Haydock…………Payback ladies for all the years we will never get back queuing ourselvesYESSSSSSS!!!!!
It was an absolutely brilliant day made that way by everyone who came – thank you ladies – you are all legend! x